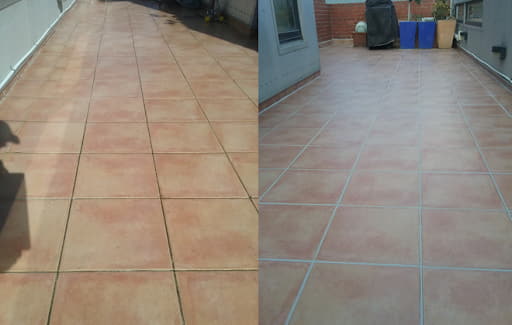 The Ultimate Guide To Tile Rescue In Melbourne
Being a homeowner can sometimes be bitter-sweet, especially when the effects of wear and tear begin to rear their unsightly faces. Tiles, especially, show their need for tender loving care through discolouration and grime, which can feel like a thorn in your side every time you see them. But, that's where professional tile rescue in Melbourne comes in! 
Let's discuss why you may need tile rescue services and how they can significantly improve your home's tiles!
Common Tile Dilemmas: Understanding The Struggle
You are not alone in your struggle to maintain pristine tiles in your home! We know firsthand that keeping your floors looking shiny and new is no walk in the park. Let's shed some light on the many tile issues that plague Melbourne homes: 
Stains and Discoloration

: You know the struggle is real when you are relentlessly scrubbing away at stains on your tiles, only for them to stare you in the eye as they overcome your chemicals and rubber gloves. Unfortunately, stains and discolouration are all too common for tiled surfaces, especially when they experience high traffic and the tolls of a busy home.

Cracks and Chips

: As unfortunate as cracks and chips are for your tiles, they can be challenging to prevent with a busy household. 

Grimy Grout Lines

: Humid conditions, excess moisture, and continuous exposure to dirt will leave your grout lines looking rather unappealing. 

Miserable and Drab Exteriors

: Your patio is a place where everyone can pull up a chair and enjoy the lovely Melbourne sunshine, but the experience might not be all smiles when your outdoor tiles have lost their sheen. Continuous exposure to the elements can diminish your once pristine tiles.

Lost Shine

: There's nothing quite as satisfying as seeing your own reflection in your tiles! But, over time, that reflection disappears along with your tile's shine.
These common tile problems may seem impossible to resolve, but help is not far away! Stone Tile cleaning can rescue your tiles and your sanity, helping you to create the stunning home you've always wanted. 
Your Tile Rescue Solution
If you have reached the point of no return, and you think that tile replacement is the only solution for your tile woes, stop right there! You don't have to succumb to the costly affair of tile replacement. Instead, use our tile rescue services! Here's how we can restore your precious floors:
Professional Tile Cleaning

: Professional tile cleaning lifts even the most stubborn stains. Advanced techniques and eco-friendly solutions gently lift away nagging and persistent blemishes, effortlessly restoring the original beauty of your tiles.

Tile Repair and Restoration

: Cracks and chips don't have to signal the end of your tiles' lifespan. Tile rescue professionals are wizards in restoring any imperfections and leaving a perfect finish on your tiles.

Grout Transformation

: You know those grimy grout lines that have plagued your tiles for what seems like a lifetime? It's time to banish them for good! Grout cleaning and recolouring can make your tiles look as good as new, perfectly outlining them to create the perfect look.

Exterior Tile Makeover

: Melbourne's weather can be tough, but your exterior tiles can still shine despite the beating they take from good old Mother Nature. Exterior tile cleaning and sealing protect your tiles from the elements, ensuring they remain a stunning focal point of your home's curb appeal and entertainment ambience.

Polishing and Sealing

: We all have a love for things that shine, and tiles are no exception! Polishing and sealing restore the lost shine of your tiles and provides a protective barrier to give them the longevity and resistance they need.
With tile rescue services in Melbourne, you don't have to settle for mediocre floors or pay the price for tile replacement. Just contact Stone Tile Cleaning, and let our professionals restore your tiles to their former glory!