Pressure washers and its parts
Pressure washers are working with the help of different motors, which that depends on the kind and installation of washers. Lot of these washers is being used for industrial works, commonly for diesel engines and gasoline. Industrial cleaning is a very tough job, it takes time for that cleaning, and that is the reason why these engines are being use for this job. They can run for long time period without getting heated. The other reason for using these engines is that most of the cleaning is being done on offsite where there is no electricity is available and engine do not need it and can work without electric power. There are also small cleaning machines that are being used for small jobs such as automobile and watercraft or any house washing. These machines do not exhale dangerous gasses so they are best for home washing.
High pressure pump motors are the heart of washer models. There are two types of them piston and plunger and both do the same work. If we talk about one which is more expert in work its plunger, it can work for very long time without giving any problem, and because of that they are very much in demand. They have been claimed top valued in industry. They have been made by ceramic which is the toughest material and do not get damaged easily. There are two types of them duplex and triplex but the second one is more in demand because it gives steadier gush.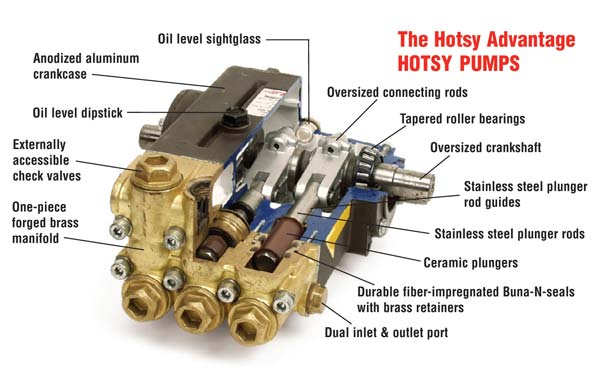 High pressure nozzles are the most significant part, the work of these washers depends on them.  These nozzles contain small holes which can be sized and it controls the pressure of water and give a certain power to the gush. The pinhole work as a restraint in the flow, the pressure creates when flow of water of pump get through this restriction. It is not a common consideration but these nozzles definitely play most important role in this washing method. If they get worn or their size is not correct the pressure will not be that good as required.  
Pressure hose is the inner tube for water to get pass which can have a single or double braid of wire mesh, and it is envelop in external rubber cover. The cheaper one will have thermoplastic material cover. I you want it to last for more time use the hose which is rated higher psi than your pressure washer. It has an inner core and a wire rape which protect the inner core from weakling. Rubber covers work best for hoses and they stay intact for a very very long time.
Buy small hoses instead of one big hose it will work better this way.